High mountain
Trekking escursionistico: sentiero dei tedeschi
From € 1800
Level Advanced
Duration 6 days
Zone Ortles Cevedale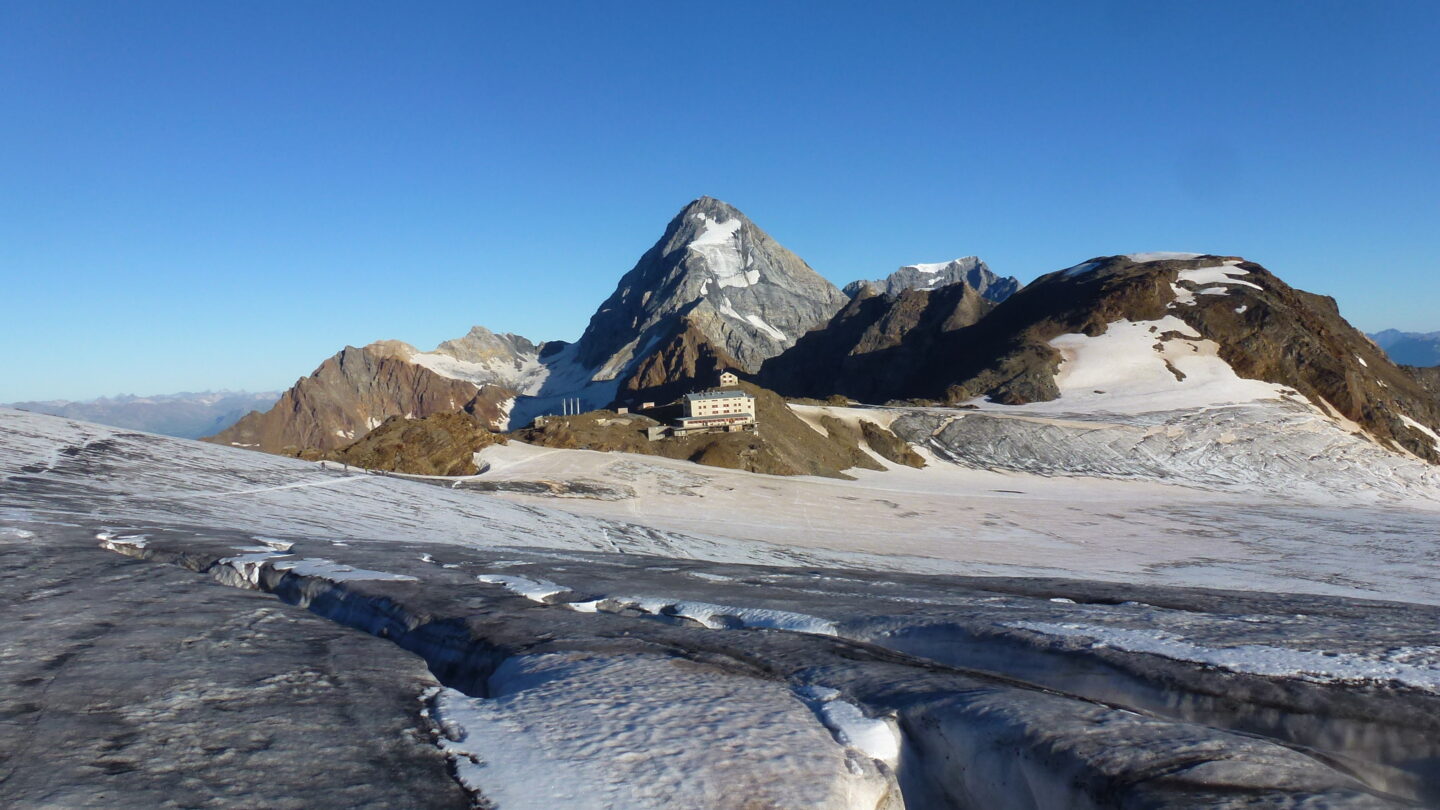 Departure and finish line are both in Val Martello (Alto Adige), this itinerary allow us to visit some of the most interesting mountains of the area, quite like Cevedale and Cima Venezia. These peaks, thanks to their location, allow us to admire an amazing landscape over the entire mountain chain, with spectacular views towards the Ortles massif and Gran Zebrù. The hike will take place on paths and trails, as well as glaciers in some sections, reaching some of the most remunerative peaks of the area and touching regions of great naturalistic value.
Technical description
DAY ONE: we arrive in Val Martello (2051 m, it's possible to park the car at the end of the road) and climb up to Rifugio Martello (2580 m) on an easy path, passing over Rifugio Nino Corsi (2265 m).
DAY TWO: we reach Rifugio Casati (3254 m), walking across the Forcola glacier in the direction of Cima dei tre Cannoni (3276 m). We spend the night there.

DAY THREE: we climb up to Monte Cevedale (3769 m), crossing over the homonym glacier, then we follow the ridge which takes us to Zufallspitze (3757 m). Here, we start the descend to Passo della Forcola and Rifugio Larcher (2607 m). We spend the night here.
DAY FOUR: we walk on the path which will lead us to Cima Lago Lungo (3165 m), we reach Careser glacier, crossing over Cima Venezia (3386 m). Through Bocca di Saent we descend to Rifugio Dorigoni (2436 m). We spend the night here.
DAY FIVE: by walking on an easy path, passing by Giogo Nero, we climb up to Collecchio (2957 m). We descend while coasting numerous alpine lakes until we reach Rifugio Canziani (2561 m) in Val d'Ultimo. We spend the night.

DAY SIX: passing by Passo di Gioveretto (3174 m) we go back to Val Martello (2051 m) and the starting point.
Equipment
crampons

ice axe

harness

mountain boots

backpack

water bottle

waterproof k-way

sunglasses

limited food supply

heavy clothes

bonnet

gloves
Info
Individual fees – 1 person = 1800 euros, 2 people = 970 euros, 3 people = 660 euros, 4 people = 500 euros, 5 people = 450 euros, 6 people = 380 euros.
For large groups contact us: we will propose you a personalized quote.
The half board of the Guide and the transfer are not included in the fee