High mountain
Traversata Eiger (3970m) – Monch (4107m) Mittellegigrat/Sudwest Grat
Level Advanced
Duration 3 days
Zone 4000 of the Alps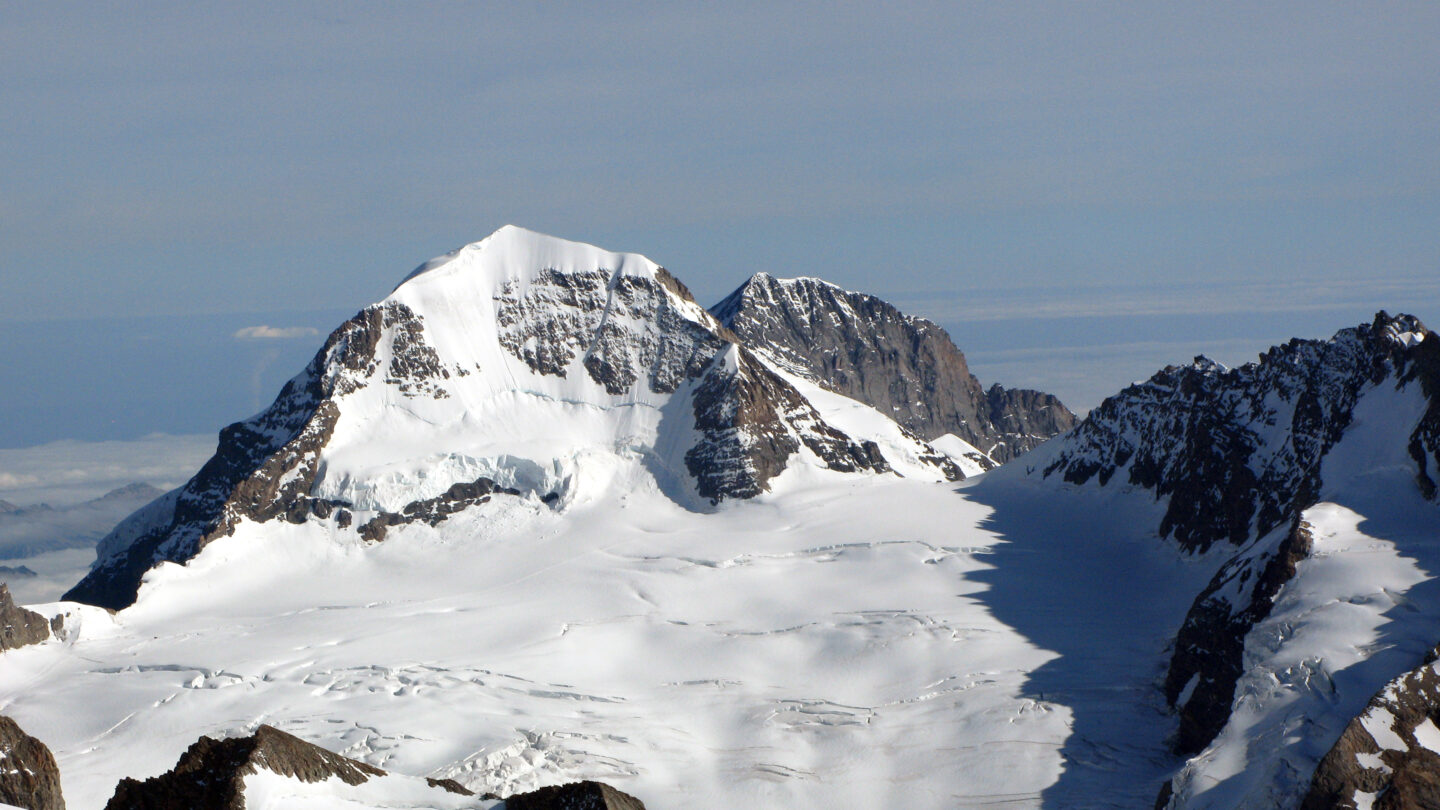 These two mountains dominate the landscape of Grindelwald: the Eiger with its northern wall, the Monch with its long backbone, the Jungfrau which completes the trilogy. The Orc, the Monk and the Young Lady. The Oberland is one of the widest glacial extensions of the Alps: extremely remoted mountains and glaciers are accessible thanks to the rack which takes us from Grindelwald to Jungfraujoch.
Technical description
The almost completely rocky Mittellegigrat is a splendid ridge, exposed on both sides, with some sections eased by fixed iron ropes. The south-western ridge of the Monch offers a fun climb which ends on the iced slides of the Nollen.
Support point for this ascent is the Mittellegi Hutte (3354m), reachable from the station of Eismeer (3159m). The eagle's nest on the northern wall, above the green grass of Grindelwald, guarantees a scenic overview of the glacier of Ischmeer and two among the wildest 4000nds of the Alps: Schreckhorn and Lauteraarhorn. Another support hut is the Monchjoch Hutte (3657m) under the Monch (4107m), dominating the Ewigschneefeld.
Next to the hut the ridge starts, on which we can walk to reach Eiger's summit (3970m); while descending, we can walkover Eigerjoch and reach Monchjoch Hutte (3657m), where we spend the night. On the second day, following the Jungfraujoch's direction, we reach the summit of Monch (4107m), stepping over the south-western and south-eastern ridges, then descending to the Jungfraujoch and Grindelwald, by rack.
Equipment
crampons

ice axe

harness

boots

backpack

water bottle

winter clothes

waterproof k-way

underwear

gloves

bonnet

sunglasses

suncream

limited food supply

sleeping bag.
Info
Difficulties:
Mittellegigrat: III and IV.

South-western ridge: II and III.
Physical conditions: good level of training and adaptation to the high altitude.
Technical preparation: ability to climb V grade UIAA scale, good technique on mixed terrain with crampons.
Elevation gain:
Eismeer – Mittellegi Hutte +400m – 2.5hrs.

Mittellegi Hutte – Eiger – Monchjoch Hutte +950m – 8hrs.

Monchjoch Hutte – Monch +550m – 4.5 hrs.

Eiger – Monchjoch Hutte -600m.

Monch – Jungfraujoch -650m – 3hrs.

1 person, individual fee: 1600 euros.