Level Advanced
Duration 2 days
Zone 4000 of the Alps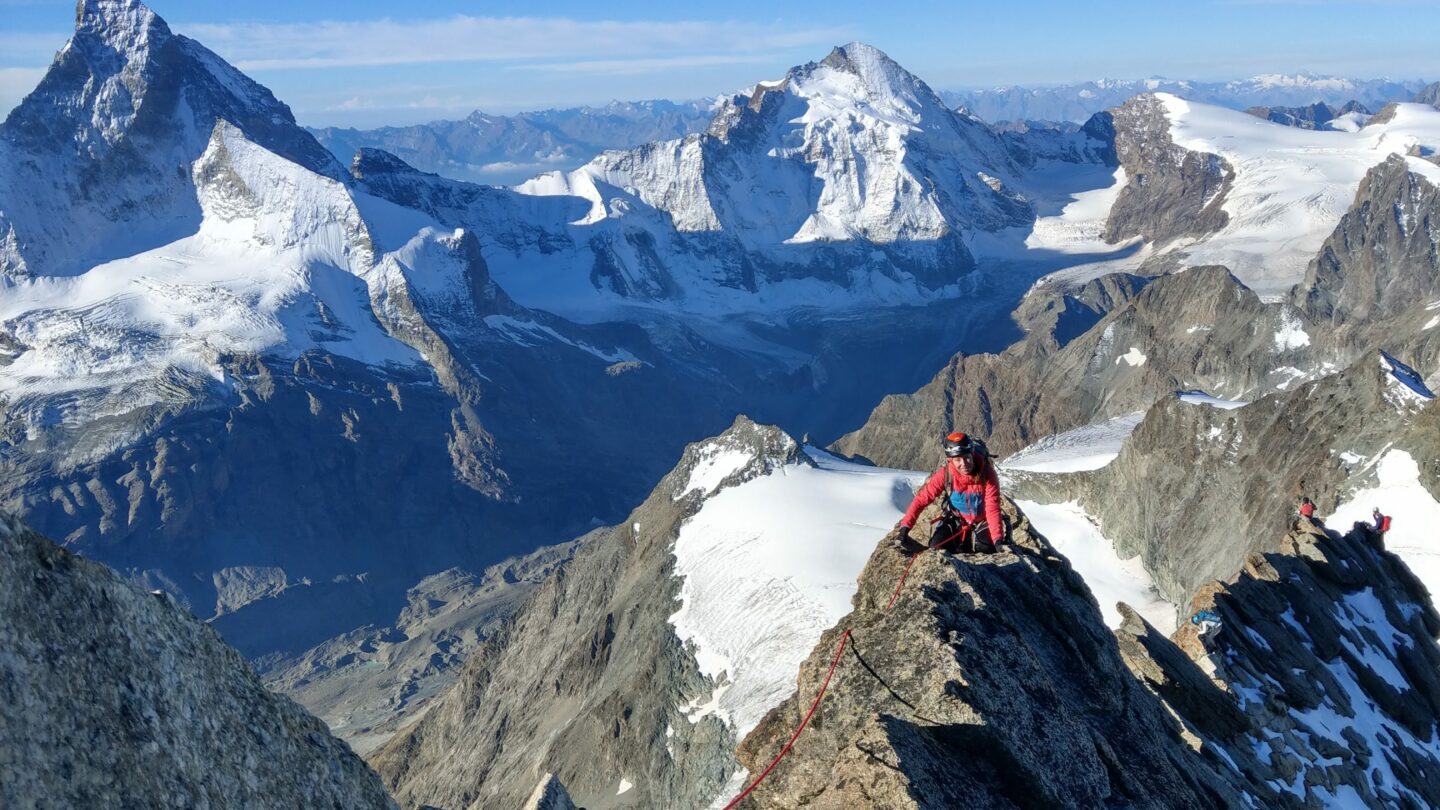 Ober Gabelhorn, among the other 4000 over Zermatt, is the tiniest, but its northern side – with the Zinal glacier – is one of the most beautiful of the Alps. The crossing includes the ascent of the western ridge Arbengrat, and the descent from the eastern side, by overcoming the Wellenkuppe, through which the normal route passes.
Technical description
Arbengrat is a beautiful rocky ridge, with difficulties around III-degree, over the valley of Zmutt on the side of Zermatt and the big glacial basin of Zinal valley. Along the ridge we can spot the northern sides of Matterhorn and Dent d'Herens and the eastern sides of Dent Blanche and Grand Cornier. To access the ridge it's necessary to stay overnight in the Arbenbiwak (3224m), which is possible to reach in 5 hours from Zermatt (1605m), while during the descent we come across Rothorn Hutte (3198m), from which we can reach Zermatt.
Equipment
crampons

ice axe

harness

boots

backpack

water bottle

winter clothes

waterproof k-way

underwear

gloves

bonnet

sunglasses

suncream

limited food supply plus stove

sleeping bag etc for the night at the bivouac.
Info
Arbengrat: II and III-degree.

Eastern ridge: I and II, some sections around III.
Physical conditions: good training level and adaptation to high altitude.
Technical preparation: ability to climb on rock until V, good technique on mixed terrain with crampons requested.
Elevation gain:
Zermatt – Arbenbiwak +1619m – 5hrs.

Arbenbiwak – Ober Gabelhorn +915m – 5/6 hrs.


Rothorn Hutte – Zermatt -1593m – 3hrs.

Ober Gabelhorn – Rothorn Hutte -941m – 4hrs.
1 person.