High mountain
Mont Blanc du Tacul (4248m) – Traversata delle Aiguilles du Diable
From € 1700
Level Advanced
Duration 2 days
Zone 4000 of the Alps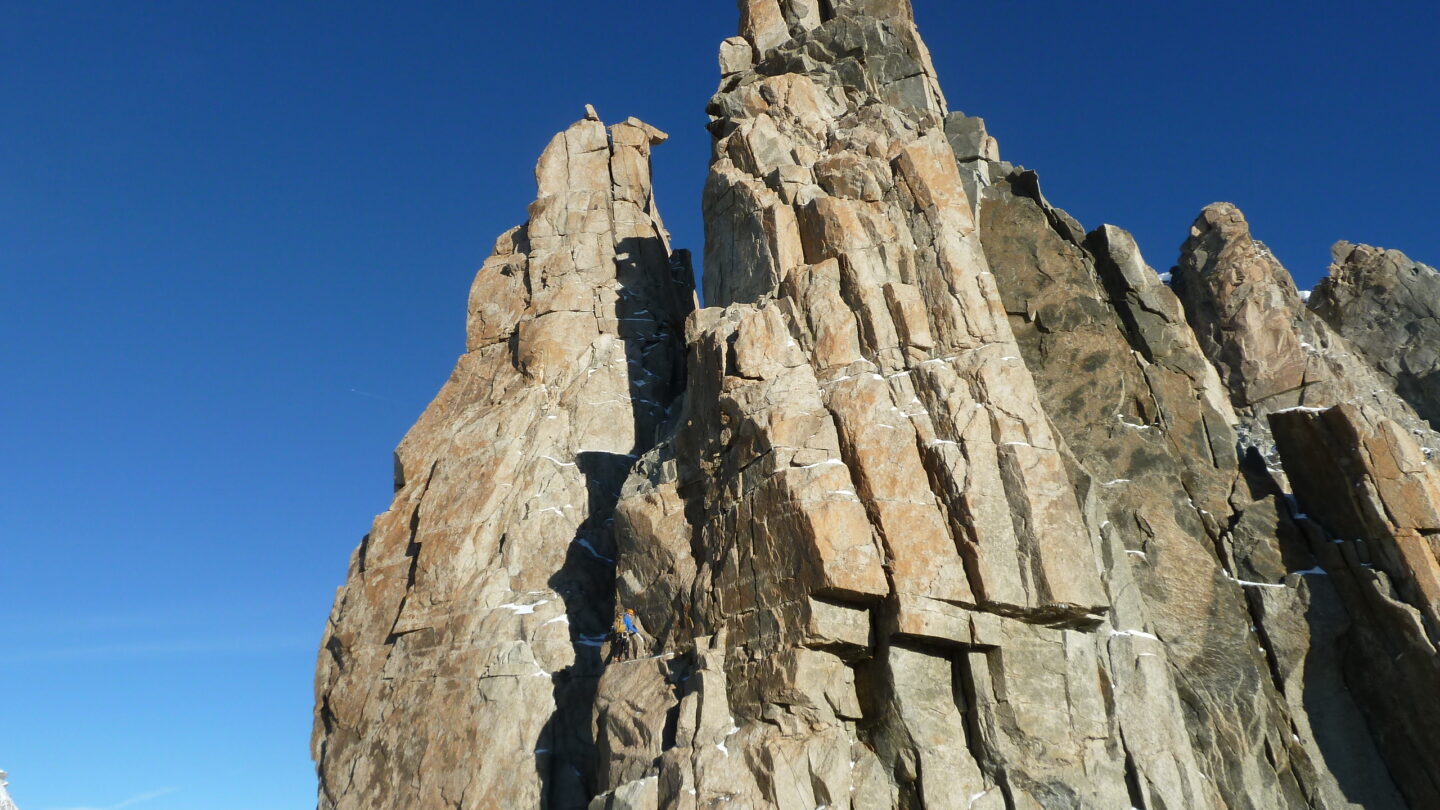 One of the most beautiful ascents in high altitude of the Monte Bianco group, in a wild and exceptional environment.
Long and delicate ascent, on rock and mixed terrains, plus many rappelling sections.
Along the way we summit Corne du Diable (4064), Pointe Chaubert (4074), Pointe Mediane (4097), Pointe Carmen (4107), L'Isolèe (4114), Mont Blanc du Tacul (4248).
Technical description
This amazing ridge on the southern side, from Mont Blanc du Tacul, serrated and full of spires, presents difficulties in climbing on the rock. A part from the access to Col du Diable, which can happen by overcoming a snowy and icy channel from Cirque Maudit, the challenging five towers of the ridge can be conquered only climbing on stable granitic rock. The last section of the ridge presents moderate difficulties on mixed terrain. The access to Cirque Maudit happens directly from Rifugio Torino (3371 m), through the glacier of the Giant
Equipment
crampons

ice axe

harness

boots

backpack

water bottle

winter clothes

waterproof k-way

underwear

gloves

bonnet

sunglasses

suncream

limited food supply plus stove

sleeping bag etc for the night at the bivouac.
Info
Difficulties: IV/V.
Physical conditions: good training level and adaptation to high altitude.
Technical preparation: ability to climb on rock until V, good technique on mixed terrain with crampons requested.
Elevation gain:
Rifugio Torino – Mont Blanc du Tacul +1250m – 12hrs.

Mont Blanc du Tacul – Refuge Des Cosmiques + 700m – 2,5hrs.

Refuge Des Cosmiques – Rifugio Torino -450m/+250m – 3hrs.
1 person